How do I buy the Tag Groups plugin (premium plans)?
Please select a plan on this page. The purchase is handled by Freemius. After completion you will receive a license code (check your emails) and a link where you can download the ZIP file of the premium plugin.
Please consider using the free trial option before you buy. That way you can make sure that all features work on your site together with your other plugins and themes and you can check which customizations are possible out of the box. You can start the trial on the pricing page or from the Tag Groups Settings.
Then you upload and install the ZIP file and activate the license with the license code. Freemius will also send you a link to your customer account where you can manage your licenses and purchases and transfer the license to another web site.
If you choose a recurring subscription, you will receive a reminder by Freemius before a new subscription cycle starts. Subscriptions renew automatically, unless you cancel them. Please make sure that during purchase you provide a valid email address that you can access throughout the subscription period.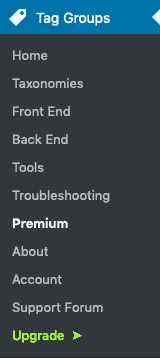 If you already use the free Tag Groups plugin from WordPress.org you can also upgrade from your back end. More details about the installation is available here.
Go to the "Upgrade" page in the Tag Groups settings where you choose a plan and a subscription option.
From there you will proceed as described above.
The free version of the plugin will be automatically deactivated when you install the paid version. All the features of the free version are also provided by the paid version and the data you created with the free version will be fully available after the upgrade.
If after upgrading something doesn't seem right, please try the buttons under "First Aid" on the "Troubleshooting" page.